The Wedding
Saturday, September 30, 2017
5:30 PM
Attire: Country Club/California Festive
Ceremony and Reception
Our Home
8151 Caminito Santaluz Sur, San Diego, CA, United States
THANK YOU! THANK YOU! THANK YOU! OUR WEDDING GUESTS CONTRIBUTED MORE THAN $5,800 TO THE VOA!! YAY- YOU!
Thank you for visiting our wedding website.
We have decided to get married and celebrate at our home and would love nothing more than for you to join us. We plan to have a short ceremony at sunset. You won't want to miss that so please come on time or even early!
We will have great food and our favorite wines and cocktails.
Your whole family is welcome, honestly. (Dakota and Jenna will have a role in the ceremony) But, we think the event is best suited for adults.
Please consider taking Uber, Lyft, a taxicab or hitch a ride with a non-drinking friend! See the "Details" page of this website for an Uber discount code that we have set up special for our wedding.
Wear whatever you want - seriously!
We aren't registered for gifts of housewares, like fine china and hand towels. At 40+ years old, if we need to ask our friends for hand towels, we have no business throwing ourselves a big party! We would really just like the pleasure of your company. Instead, we area asking for donations to the Volunteers of America, a charity that is close to our hearts. (Please see the section called "Donate to VOA" below for the link to their donation page.) If you really need to bring something, bring a bottle of wine that you like and then we can plan for you to come back and drink it with us on another evening!
Our Story
How we met...
Karen and Jeremy met at work, in April 2012. I know, boring right? Karen's company was hosting a party to celebrate 20 years in San Diego and Jeremy came to it. They ended up at an after-party event at The Market in Del Mar with mutual friends and colleagues where Jeremy suggested that he and Karen head to Las Vegas to get married (Jeremy denies that he said this but Karen remembers it like it was yesterday). At the end of the evening, Karen needed cash to tip the valet and "borrowed" $5 from Jeremy. Jeremy was smart enough to get Karen's number so that they could arrange for a time to meet up when Karen could repay the loan. Their first date was a couple of days later.
Our first two dates...
Karen and Jeremy had their first "date" at Dolce in Rancho Santa Fe. They shared a bottle of Laird "Jillian's Blend" red wine and snacks. Conversation was easy. They talked about work, family, etc. However, at the end of the wine and conversation, they said goodbye and walked to their separate cars. Karen will tell you that she wasn't sure, after that date, if Jeremy wanted to date her or just wanted to network with her. Jeremy was in the middle of a year of purposeful networking with corporate attorneys after all - again, this is something that he would deny if asked.
For their second date, they met for drinks at Red Tracton's in Del Mar. Karen put a lot of thought into what she would wear. Jeremy came from a tennis lesson, in workout clothes. Karen also thought carefully about where to park and opted to park on the street instead of valet'ing her car thinking that she would be able to judge Jeremy's intentions by whether he walked her to the car this time when the date was over.
Jeremy brought another woman to the date! It was a friend of his and a mutual connection (Hi, Michele Comtois) but, still, another woman!?! This friend quickly figured out that Karen was under the impression that the meeting was a "date" and not just friends hanging out for a drink and politely ordered her baked potato to-go and excused herself. Karen and Jeremy had another lovely time together and he even walked her to her car this time. :) But...still... he brought another woman to the date! Karen was still wondering about his intentions :).
Jeremy's Proposal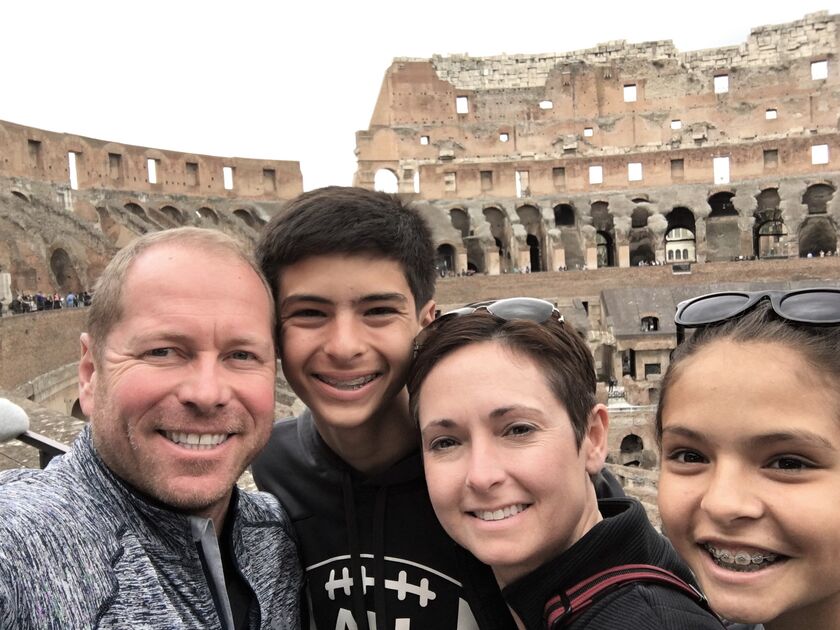 Jeremy proposed in Italy -- so romantic, right?
Karen, Jeremy, Dakota and Jenna took a vacation to Italy in the spring of 2016. They spent most of the week in Rome, being tourists and enjoying great food and wine. However, for the second to last evening, they rented a car and took the kids to their favorite spot in the world -- a castle-turned-bed-and-breakfast which Jeremy and Karen had visited and fell in love with in 2013. Jeremy had arranged for a grand suite, flowers in the room, a champagne toast and a divine meal prepared by the owner just for our family. At the table, between champagne and dinner, Jeremy proposed with the most beautiful diamond ring that Karen had ever seen. Dakota and Jenna were in on the surprise for the whole trip and kept it secret! As an especially sweet touch, Dakota had the ring in his pocket at dinner and handed it to Jeremy for the proposal. Karen, obviously, said "Yes!" and here you are on their wedding website. Yay!
Other Events
Out of Towners' Dinner
Friday, September 29, 2017
6:30 PM
Rosina's Italian Restaurant
14701 Via Bettona, San Diego, CA 92127, USA
If you are traveling to San Diego from out of town to celebrate with us, we would like to invite you to be our guests at dinner on Friday, at our favorite local restaurant. This event is casual.
Sunday Brunch
Sunday, October 1, 2017
10:00 AM
Sbicca
215 15th St, Del Mar, CA 92014, USA
If you're still in town and aren't sick of us yet, we'll see you at a "no host" brunch at Jeremy's favorite Del Mar restaurant. It should be close enough to walk for everyone staying in Del Mar that weekend.
Wedding Party
Jenna Rain Hernandez - Maid of Honor
Jenna is Karen's strong, smart, beautiful daughter.
Laura O'Connor - Bridesmaid
Laura is Karen's lovely sister and her oldest friend in the world.
Dulcy Matthies - Bridesmaid
Dulcy is real, generous and fun and is Karen's best friend.
Liz Carter - Bridesmaid
Liz is Karen's brainy and beautiful friend (and fellow attorney and former co-worker).
Marissa Fox - Bridesmaid
Marissa is Karen's adventurous, world-changing friend (and fellow attorney and former co-worker).
Mason Matthies - Best Man
Dakota Hernandez - Groomsman
Dakota is Karen's smart, ambitious, handsome son.
Donate to VOA
Please Consider a Donation to the Volunteers of America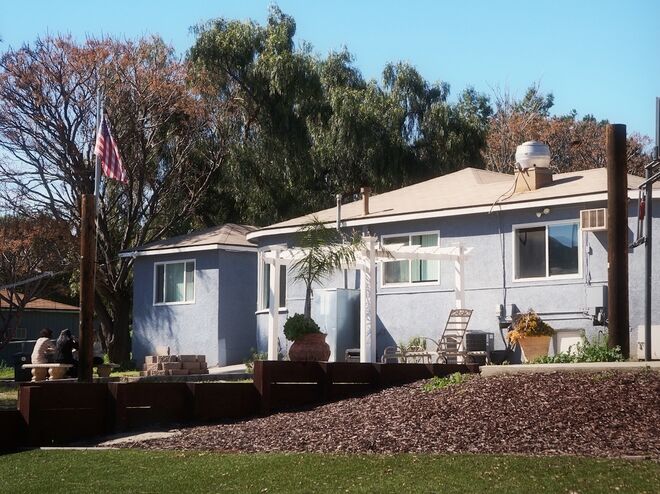 Hi,
Among other non-profit efforts, Volunteers of America Southwest provides critical services to our local veterans. VOA has a special place in our family's heart and has helped countless vets, specifically through their Hawley Veterans Services Center here in San Diego (giving vets a home and place to stabilize their lives). We have been very involved with this house and we know that they continue to have lots of needs. In lieu of wedding gifts, we would encourage everyone to donate to the Hawley Center. Here is the link: Donation Link
Please direct your donation to the "Hawley Veterans Service Center" -- you'll see a button to direct it to a specific program and will find Hawley in the dropdown menu.